Igor Makarov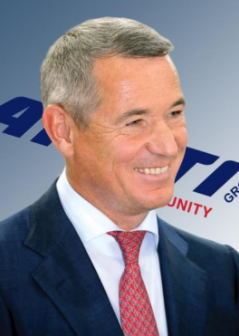 Igor Makarov, President of ARETI International Group, was born in 1962. Born and raised in Ashgabat, Turkmenistan, Mr. Makarov has accomplished professional and athletic successes. His life has been the culmination of pure determination, strength of spirit, and unwavering dedication.
With an equal interest in education and sports, Igor Makarov graduated from Turkmen State University in 1983, and competed as a world-class cyclist from 1979 to 1986.
As a member of the USSR Olympic national cycling team and a winner of many national and international championships, Makarov achieved a title of International Master of Sports.
At the end of his highly decorated athletic career in 1986, Igor Makarov cultivated a growing interest in business, and embarked on a burgeoning career as an entrepreneur. Starting initially with a small consumer goods manufacturing company, Mr. Makarov built upon that experience to run numerous successful enterprises. Those early accomplishments, due in large part to his initiative and keen business acumen, led to the development of lucrative companies including an international energy company in the early 1990s.
In 1992, he became the founder and head of ITERA International Group of Companies (ITERA IGC), and within two years, the Group began to supply natural gas sourced from Turkmenistan to former USSR countries and to Eastern Europe.
His achievements continued into the 1990s through 2007, as ITERA developed and operated nine gas fields in Northern and Eastern Siberia with annual production of about 80 billion cubic meters of natural gas.
By the early 2000s, ITERA International Group of Companies included a diverse array of subsidiaries operating in various sectors of the economy in twenty-four countries around the world. Natural gas deliveries to former USSR countries and to Eastern Europe amounted to 100 billion cubic meters per year. Additionally, more than ten thousand kilometers of gas pipelines, oil pipelines, and numerous compressor stations were built and operated under the umbrella of ITERA companies.
ITERA's incredible advances in the integrated energy industry garnered Makarov multiple awards: In 2003, Mr. Makarov was nominated as the Manager of the Year in the 'Energy of Russia 2003' National Prize Award for success in business; and in March 2006, Igor Makarov was elected to the Board of Trustees of the Scientific and Technical Council of the St. Petersburg Mining Institute, where he was awarded the "Golden Badge of Mining Engineer of Russia" for successful oil and gas business activity and support of Russian education.
In addition to Mr. Makarov's personal recognition, ITERA IGC won 'The Company of the Year' National Prize Award (based on 2012 results), increasing the aggregate production at its own natural gas fields up to more than 500 billion cubic meters, while the quantity of distributed natural gas amounted to more than 600 billion cubic meters. ITERA's rise during this time period resulted in the company becoming one of the largest privately held oil and gas businesses in the world.
In 2013, ITERA Group's gas production subsidiary, ITERA Oil and Gas Company, was sold to a major integrated oil and gas company. In 2015, two years after the sale, Mr. Makarov re-energized his remaining companies and entered a new stage of development. The Group was rebranded as the ARETI International Group (ARETI IG) to signal this new direction.
Today, ARETI IG is composed of subsidiaries and affiliated companies with business interests in Russia, Switzerland, the CIS Countries and the Baltic States, United States, Canada, Western Europe, and the Middle East. ARETI is focused on investments in the oil and gas sector (including crude oil and other oil products, liquefied petroleum gas (LPG), and liquefied natural gas (LNG)), engineering, power supply, real estate development, as well as production and supply of food commodities.
ARETI has offices and affiliated companies in Switzerland (Geneva), Russia (Moscow), Cyprus (Limassol), Belarus (Minsk), Turkmenistan (Ashgabat), Canada (Calgary), the United States (Jacksonville). Currently, ARETI is actively expanding its presence in the Middle East, one of the largest developing markets in the world.
Employing the same passion he uses in his business practices, Igor Makarov is also actively involved in the development of world cycling. From 2010 to 2016, he was President of the Russian Cycling Federation. In September 2011, he was elected as a member of the International Cycling Union (UCI) Management Committee.
Igor Makarov is the founder and primary sponsor of a professional Swiss-registered cycling team, Team Katusha, which is considered a leader of the World Tour competitions since 2009.
For his significant contributions to the development of the economies of different countries of the world, Mr. Makarov has been decorated with the highest awards in Russia, Belarus, Mongolia, Moldova, Turkmenistan, Kazakhstan, Georgia, and other states.
For ARETI IG's (until 2015, ITERA) long-term sponsorship of various international charities, foundations and social and environmental projects, it was awarded with gold certificates and a gold medal "UNESCO", Order of the Russian Orthodox Church, as well as the tributes and honorary signs of the Red Cross.
With his many triumphs, and need to continue challenging himself physically and professionally, Igor Makarov has made himself the epitome of a successful, international public figure.